About
Welcome to Flex Technologies Incorporated
Flex Technologies Incorporated understood the importance of market globalization early on, and we realized our vision by making worldwide manufacturing our company's top priority. Since we began in 2003, Flex Technologies has become a trusted multinational OEM supplier. Through the years, our company has remained fully committed to being a leading source of high-quality silicone hose and ducting systems while satisfying our customers' need for innovation and the availability of a complete one-stop shop for tooling, manufacturing, and design services.
Our flexible silicone hoses are purchased by clients across numerous industries. That's because our performance silicone hose and tubing products offer numerous benefits that work well in a variety of systems and settings. If you need silicone flex hoses that will perform well under duress, in temperature extremes, in high-vibration systems, in the presence of high humidity or steam, and under high pressures, we have the parts you need. Our products offer our customers high-performance solutions at cost-effective prices. What's more, our teams have the technical expertise to help you with your OEM or custom needs. If the part you need doesn't exist, we'll design and create it for you.
Our current capabilities include custom tooling design and manufacture, product design, custom material compounding, custom silicone calendering, custom silicone extrusion, silicone hose fabrication, complete material and finished goods testing and validation, custom private label branding, full-time in-house quality inspection, as well as "Just In Time" delivery and logistics.
Our twin manufacturing sites feature state-of-the-art design, manufacturing, quality control and testing equipment. Both manufacturing locations rigorously adhere to the strict quality standards of ISO 9001:2015 and IATF 16949:2016 and Flex Technologies corporate principles of efficiency, cost effectiveness, and synergy. They are tightly linked and can efficiently support each other for complementary capabilities and services.
Our company's long-term vision and dedication have paid off in the best possible way, since we've become the supplier of choice to numerous first-tier OEM customers worldwide and have earned recognition for our many performance, delivery, and quality achievements along the way.
Developing innovative products and providing high-value engineering and manufacturing services to our customer base are goals we take very seriously. Flex Technologies accomplishes our goals by following these core values: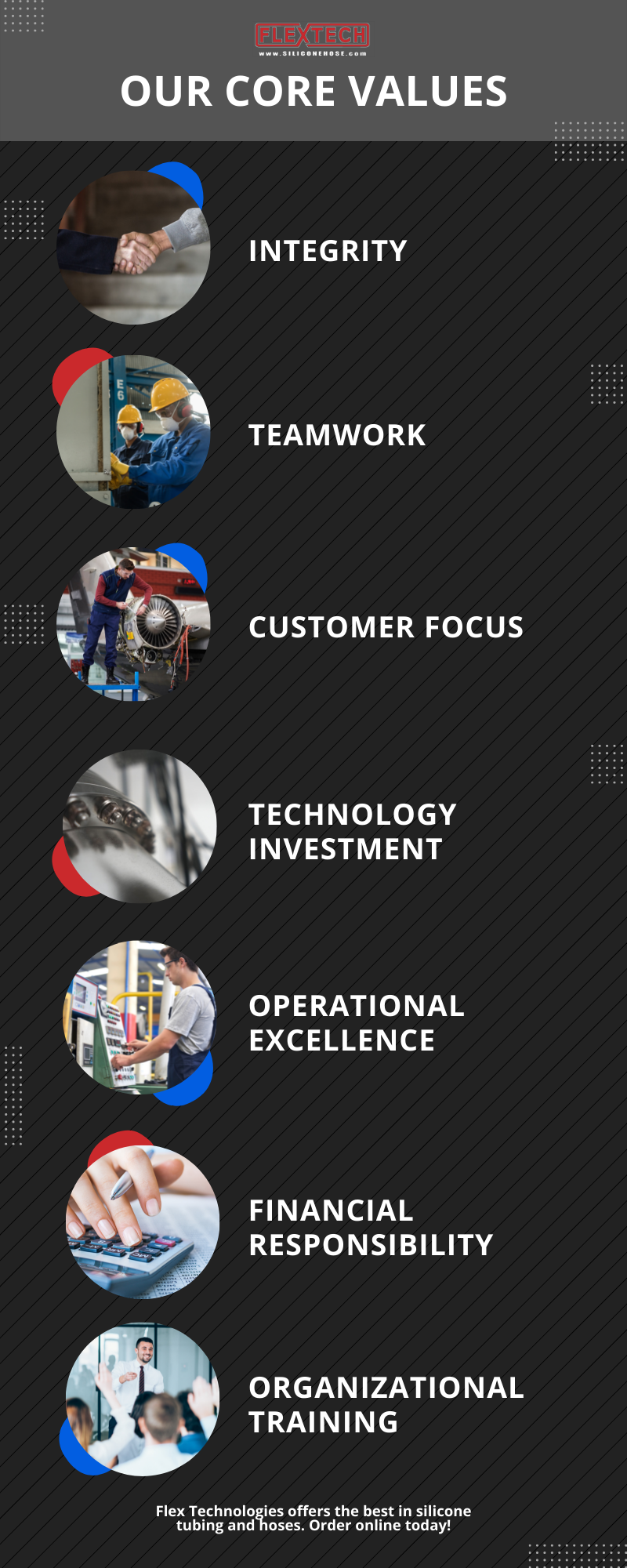 -Integrity
-Teamwork
-Customer Focus
-Technology Investment
-Operational Excellence
-Financial Responsibility
-Organizational Training
Our entire organization looks forward to serving new customers with the same degree of excellence and caring that has made us who we are today. Our customer base is highly diverse, since our product offerings include different types of silicone flex hoses and configurations for a wide range of uses. Since applications vary significantly, we often work closely with our customers to create personalized solutions for different industries. Our technical teams work with clients across the nation, sharing our expertise with everyone in order to create the solutions that meet their needs. We fully understand that with silicone hoses, one size does not fit all. The uses and applications are diverse, just as our clientele is, so we work side by side with each company to make sure each customer's needs are fully met.
For example, we offer silicone heater hoses when high temperatures are part of the equation. We also offer silicone vacuum hoses to our clients who need vacuum tubing solutions. Another category that's in demand with many of our customers encompasses our silicone coolant hose products. Perhaps the best part is that we can offer custom, flexible silicone hose solutions, including connectors and attachments, for virtually any application in any industry or sector.
If you've been struggling to find just the right part, there's no need to keep searching. Turn to Flex Tech, and we'll find or create the right solution for you. We're experts in silicone hoses, tubing, connectors, attachments, and more. Put our knowledge to work for you! We look forward to working with you today and for years to come.